SCP-914 is a safe-class SCP that resides within the Light Containment Zone, the gate to which requires a keycard with Containment Access 1 or higher to open.
The machine itself consists of 3 main components, those being: Input, main body, and output. The input is where you can place an item to be refined. The main body allows you to change the setting via a dial and activate 914. The output is where the items appear after being "refined". Items that come out of the machine can be either upgraded, downgraded, or of equal value to the ones that were refined depending on the setting.
Here is a list of what each setting does in game.
---
Rough - Breaks the items and kills any player inside input
Course - Degrades the items and deals 20 damage to any player inside input
1:1 - Turns items to other items of equal value
Fine - Upgrades the items
Very Fine - Upgrades the items twice but has a 50% chance to break them.
---
Currently, SCP-914's room has fences near the middle which prevent users from instantly getting into 914 and upgrading. The fence can also cause users to miss an upgrade or have their items stolen.
On the right side of the room, there are 2 tables where flashlights can spawn and a stack of barrels which a janitor card spawns on.
There is a shelf and a stack of crates. A medkit and a grenade can sometimes spawn on the shelf. A USP and a scientist keycard also always spawn on the crates.
Users can get on 914 by jumping onto the fences and then jumping on top of the machine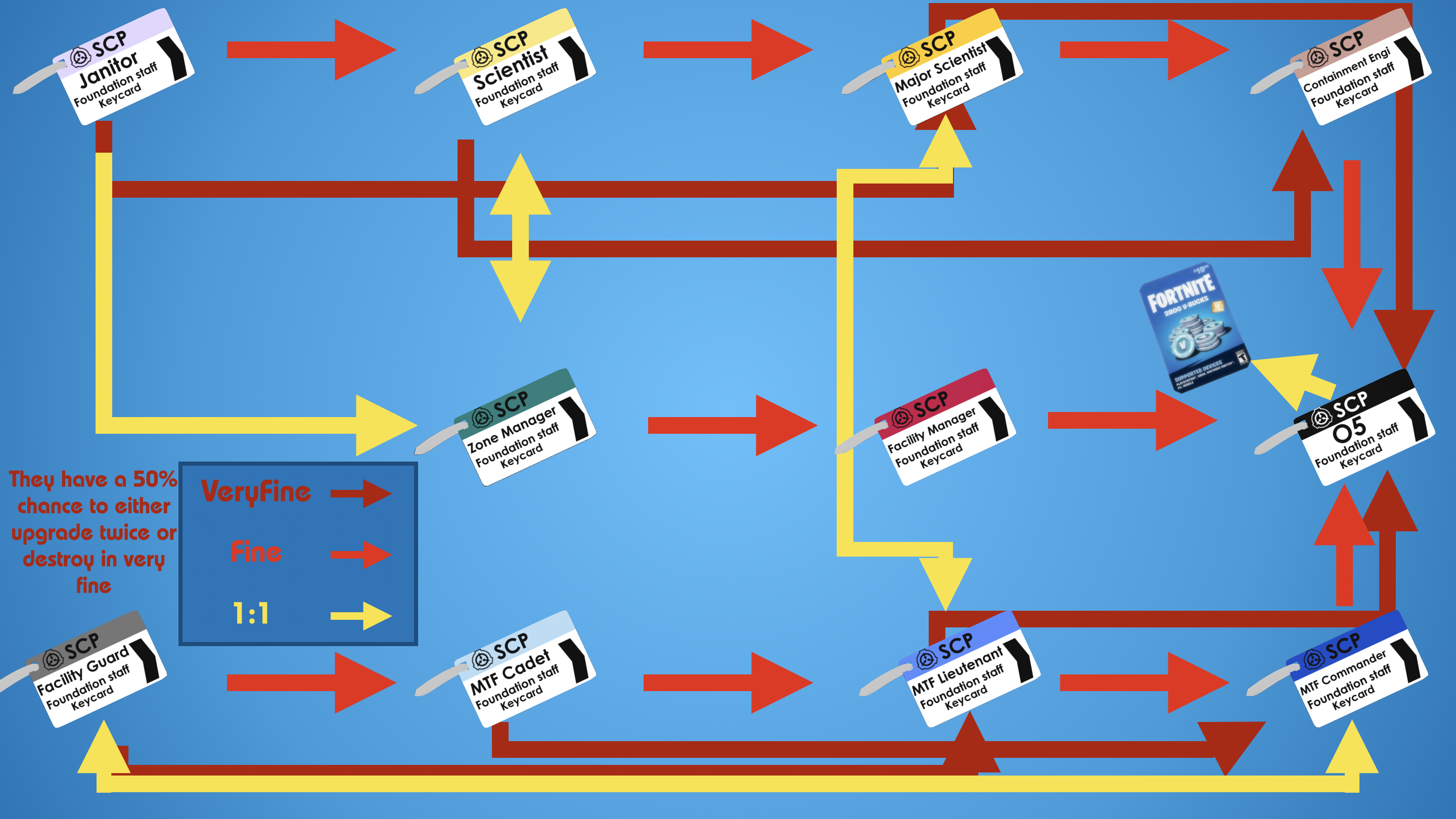 Recipe for the keycards. They have a 50% chance to break and a 50% chance to upgrade twice on very fine.
---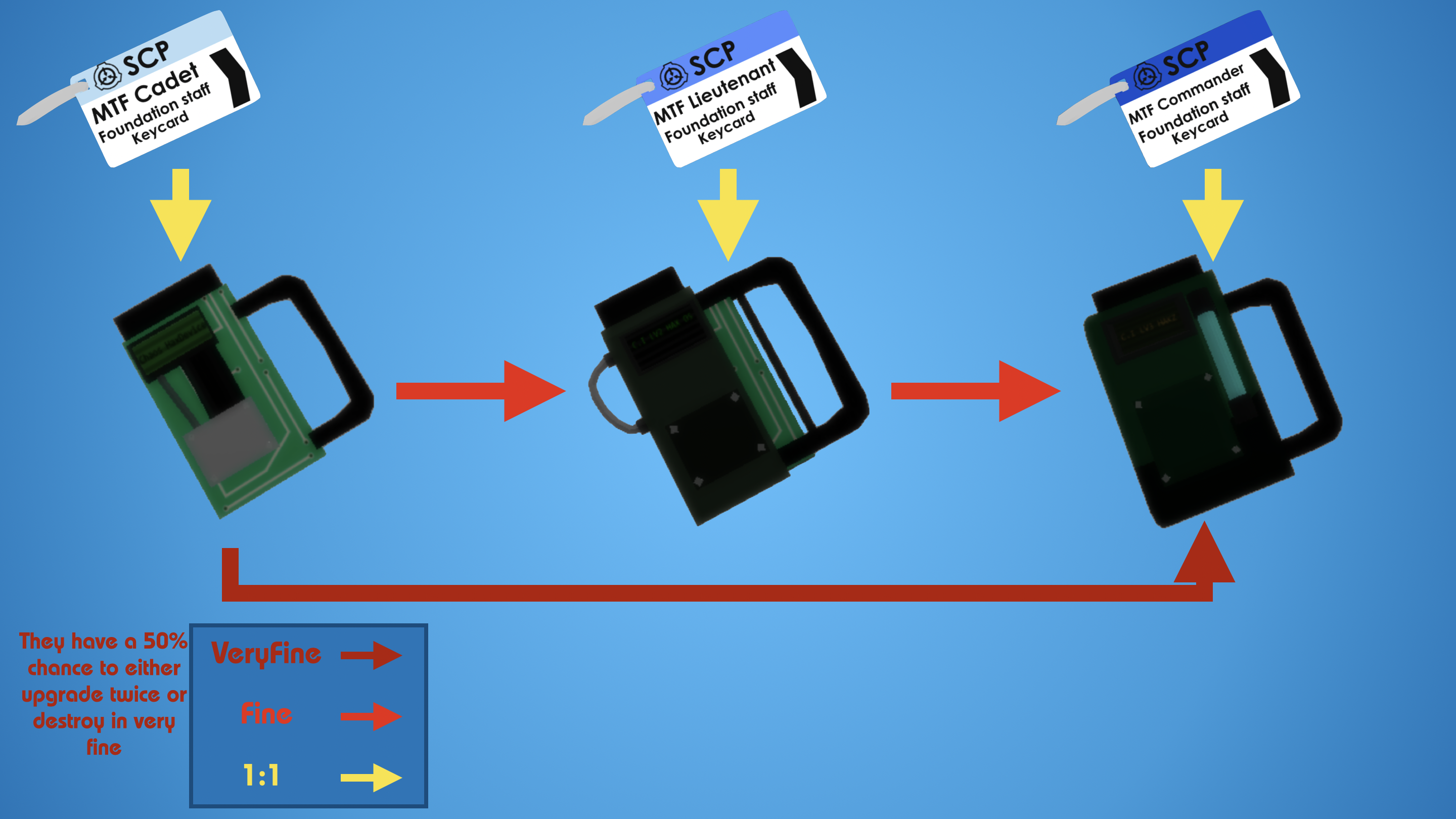 Recipe for the hacking devices. They cannot become keycards.
---
Recipe for the gun upgrades. They have a 50% chance to break and a 50% chance to upgrade twice on very fine.
---
Recipe for the explosive armaments.
---
Recipe for the vests.
---
Recipe for the grenades.
---
Recipe for medical items.
---
---
Since USP always spawns and many people like to head over to 914 at the beginning of the round, it is best to be the first one there as you'll easily upgrade your items without the risk of them getting stolen and dying.

It always a good idea to leave 914 as soon as possible. Lingering around may cause hostiles to camp outside of 914 or enter and kill you.

Always keep the gate shut. You can hear the gate open and get prepared. Closing the gate also prevents users without keycards (such as SCPs) from entering.

If you ever need to hide in 914, hide behind 914 itself or behind the crates on the back left corner of the room.

SCP-096 and SCP-1507 often have a difficult time getting out from behind 914 which makes it a very good place to trap them, though don't count on them being stuck forever.

Guns cannot shoot through the fence inside 914's room.

Melee weapons (especially baton) can be very effective for killing anyone inside input/output, and you can hit people through those chambers if you're outside.
Click to expand!

914 has been in the game since the beginning of the game. There have been 3 versions of the 914 room

Created by Citrine.

---

Similar to current version, created by Citrine.

---

914 is below the user, creator is unknown.

---

¶ The Barret and M320 recipe prior to the Decemeber 31th, 2021 914 recipe update