DISCLAIMER:
This page is incomplete, and under construction
If you have questions about this page, ping camerongud11 in the discord. test
(This page will go over what human roles the game has, if looking for SCP info click here note to self)
This section contains all the human playable classes in Project: SCP, they're all a vital part of the game as they make up how you play and what you play as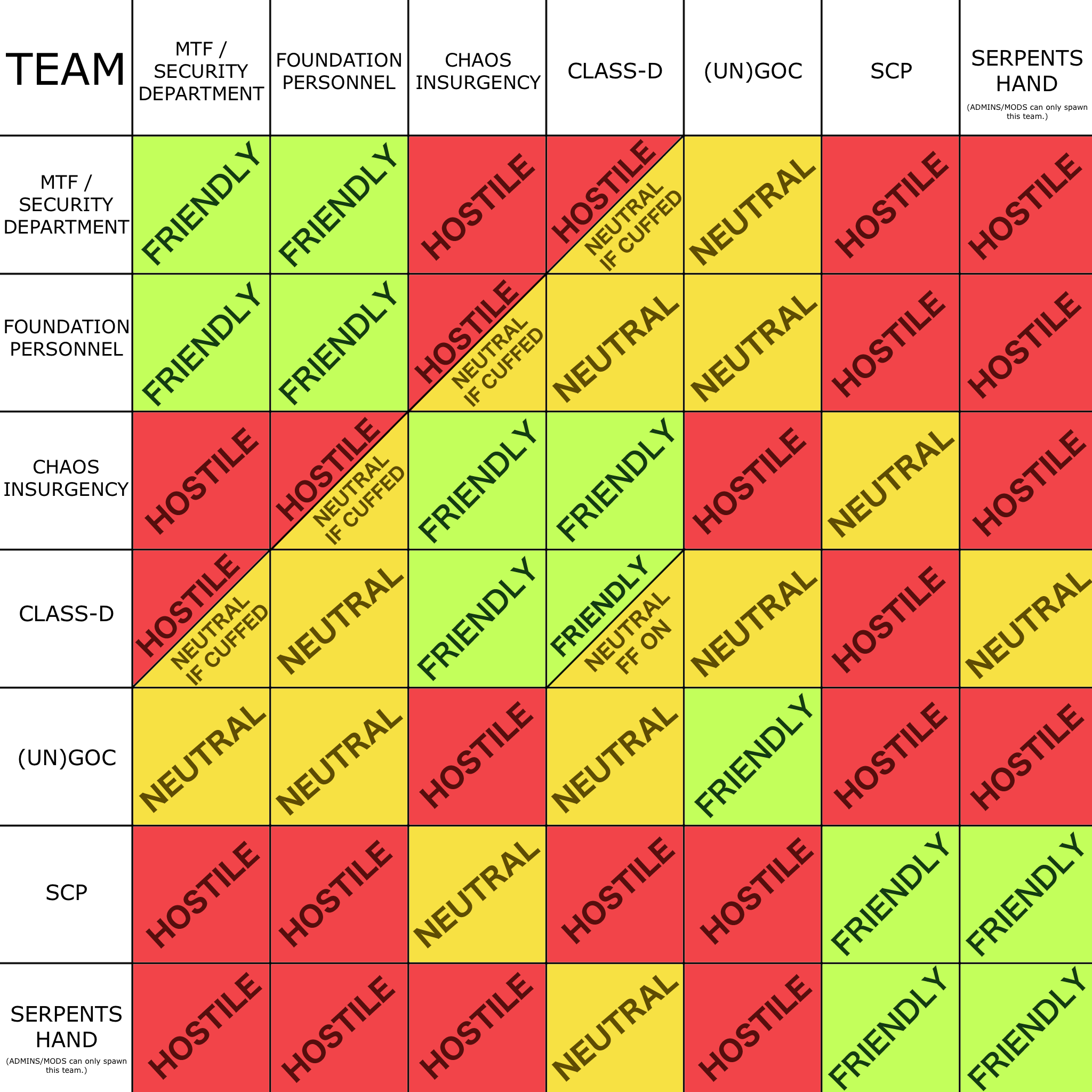 This article goes over what cuffs are and there usefulness for games.
Cuffs are an essential role to play in a search and capture goal to the side of project scp players. Cuffs are mainly used for detaining and using other players to benefit their sides win conditions or gaining members to their teams. Cuffs are also used for a sort of bypass to the teaming regulations; review the teaming regulations for more information about that.
When using cuffs you need to select it from your inventory and left-click, tap them on mobile or click them in VR. Once they are detained they will turn into the faction that assists your team. EX: If a scientist cuffs a Class-D personnel they will turn into a Mobile Task Force Cadet, if a Class-D cuffs foundation personnel; they'll turn into a Chaos Insurgency Beta, etc when they escape. This is heavily used to satisfy the win conditions as any class can cuff an opposing team to meet their win conditions.
Cuff spawn locations:
Surface containment Sub-Levels armory
SCP-939 containment armory
Other teams such as Mobile Task Forces and security guards will also spawn with cuffs in their inventory.
[INSERT IMAGE HERE]
When you escape while cuffing you will turn into that respective faction's class. For example D-class to CI, Foundation personnel, to MTF, GOC to, GOC, etc.
Here is a convert table of context for you to read through to understand the classes better.
Cuffed by Class-D/CI - Chaos Insurgency Alpha
Cuffed by FP/MTF - MTF Cadet
Cuffed by GOC - GOC Private
When cuffed, a text will appear at the bottom of your screen saying "YOU HAVE BEEN CUFFED BY [Class]" and will look like this
These are classes that spawn in LCZ (CD, Janitors, and Scientists)
(CD phot goes here)
Class-D personnel are test subjects recruited by the SCP Foundation to assist in the research of SCPs (link) in a contract decreasing their sentence and/or granting benefits. They are usually death row inmates, but sometimes prisoners with other sentences and even civilians can volunteer for the "program". At the end of every month, they are given mind-wiping amnestics or terminated.
Class-D personnel wear an orange jumpsuit with "CLASS-D" emblazoned in all caps on the back. They spawn inside the Class-D Cell Block without any items or gear.
The goal of this class within Project: SCP is to avoid facility personnel, Mobile Task Forces, and other classes which may pose a threat in order to escape the facility. Upon escape, Class-Ds will return as Chaos Insurgency "Beta" operators or (if cuffed) Mobile Task Force cadets.
(what stats are needed?)
Janitor
Researchers
Head Researchers
As the lowest-ranking personnel members (aside from Class-D personnel), janitors maintain clean working conditions throughout the various Foundation facilities. They don't look like much, but janitors have one of the most rigorous jobs the Foundation can issue.
Janitors wear a navy blue T-shirt with "Janitor" emblazoned on the back. They spawn in Light Containment Zone, similar to how Researchers spawn.
Within Project: SCP, janitors have to avoid hostile players such as hostile CDs, Chaos Insurgency operators and SCPs to escape the facility. Upon escape, janitors will return as Mobile Task Force lieutenants or (if cuffed) Chaos Insurgency "Alpha" operators.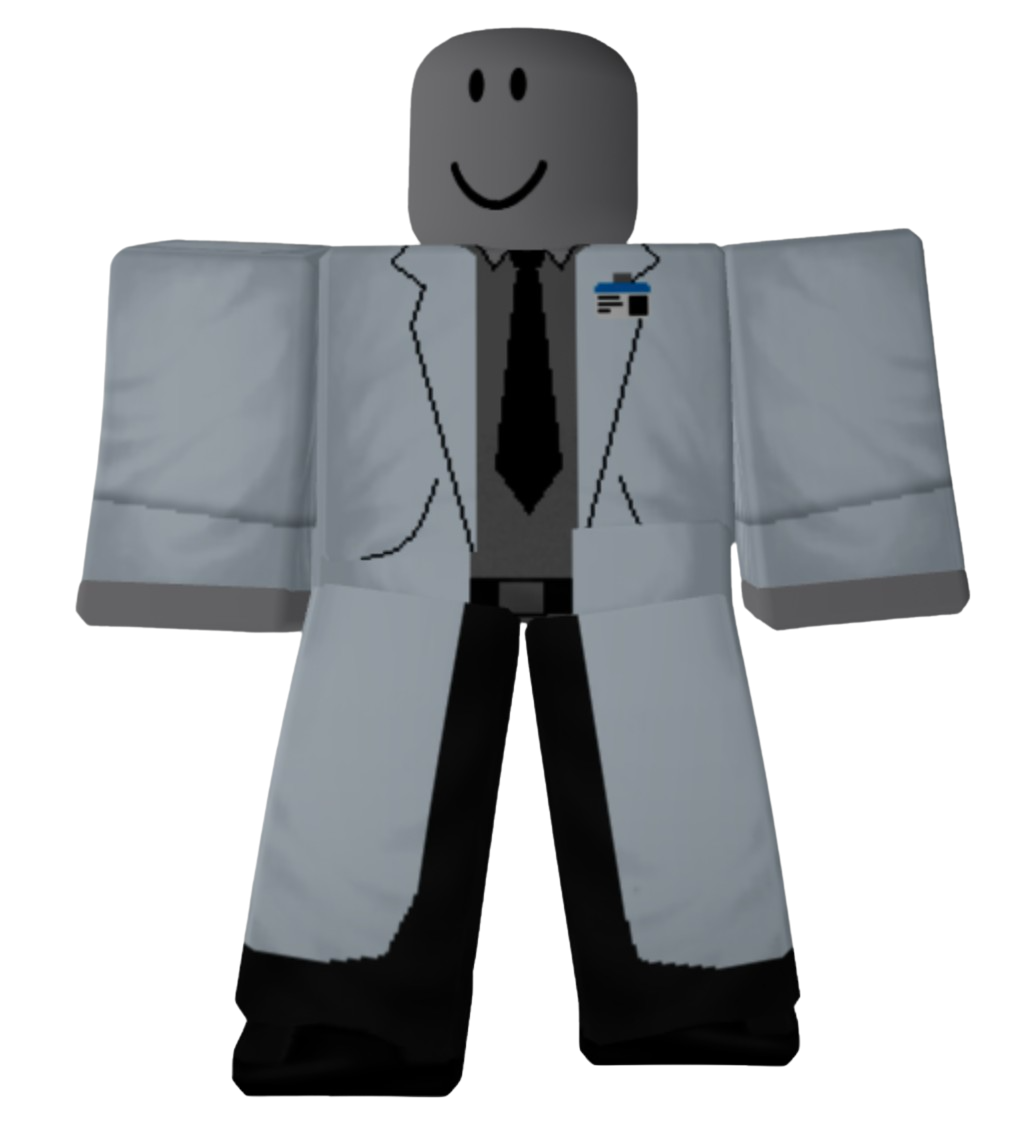 As implied in the previous description, Researchers are recruited from the brightest minds on the planet. From simple chemists, to theoretical particle physicists, to those who claim to study the anomalous art of "thaumaturgy", they work on a daily basis to catalogue and research the various paranormal objects within Foundation custody. They assist containment specialists in the development of containment procedures, and help the Ethics Committee designate Object Classes. Their research can also benefit the Foundation by creating anomalous weaponry and discovering methods of establishing relations with otherworldly organizations.
Researchers wear a simple white laboratory overcoat, accented with teal clothing and a black tie.
In Project: SCP, Researchers have to evade hostile classes such as hostile CDs, Chaos Insurgency operators, and SCPs to escape the facility. Researchers will return as Mobile Task Force lieutenants or (if cuffed) Chaos Insurgency "Alpha" operators.
Scientist keycards
Medical kit or flashlight
Unlike your average Foundation scientist who focuses specifically on the research and observation of anomalies, Head Researchers act as project coordinators. They organize groups of personnel and sometimes even entire departments to focus on specific paranormal phenomena. They may also assist certain Mobile Task Force units dedicated to the study or monitoring of an anomalous object.
As for appearance, they look exactly the same as Researchers: white laboratory overcoat with teal clothing and a black tie. Head researchers have a small chance of replacing regular Researchers.
Similar to both researchers and janitors, Head Eesearchers need to avoid hostile classes and escape the facility. After a successful escape, Head Researchers become Mobile Task Force lieutenants or (if cuffed) Chaos Insurgency "Alpha" operators.
Major Scientist keycard
Medical kit
Flashlight
(fact check all)
Facility Guards
Security Chief
Facility guards are your general, run-of-the-mill Foundation security guards. As stated in the previous description, they patrol containment areas, counter raids from groups of interest (GoIs), assist in the re-containment of SCPs, and cooperate with departments dedicated to research and development from time to time.
Facility guards wear a white uniform, with black gloves and black boots. They also wear ballistic vests, which act as early-game protection.
The goal of a facility guard is to escort facility personnel (janitors and Scientists) out of the facility, recontain/neutralize the threat posed by breached SCPs, and ensure that hostile Groups of Interest do not seize control of the facility. Facility guards are some of the most threatening players towards Class-Ds during the early periods of a match.
Has 10% protection
MP7
Radio
Handcuffs
Facility Guard keycard
Flashlight
Baton
Similar to regular facility guards, Security Chiefs operate on a daily basis to keep Foundation sites safe and secure. However, Security Chiefs specifically are given the primary task of organizing site security forces, issuing gear and equipment, and eliminating any instances of subordination.
Security Chiefs wear a grey uniform, with black gloves and black boots. Much like regular facility guards, they also wear ballistic vests, which grants useful early-game protection. Security chiefs have a small chance of replacing facility guards.
In Project: SCP, the goal of Security Chiefs is very similar to facility guards: escort personnel out of the facility, neutralize the threat of SCPs, and prevent groups of interest from taking control of the facility.
Has 20% protection
MP7
UMP-45
Radio
Handcuffs
MTF Cadet keycard
Flashlight
Grenade
Baton
Mobile Task Forces serve as response forces for the Foundation. They are recruited from many professions, including law enforcement, the military, and even research institutions. The duties of a Mobile Task Force can vary, but usually include the containment, neutralization, observation, or study of an anomalous object. Mobile Task Forces can also act as personal response teams, assault forces, and intelligence groups. The list of existing Mobile Task Forces is very broad, but some examples include Mobile Task Force Beta-1, "Cauterizers", Mobile Task Force Gamma-4, "Blondebeard's Crew", and Mobile Task Force Mu-0, "Maxwell's Demons".
Cadet
Lieutenant
Medic
Sniper
Specialist
MTF Commander
The Chaos Insurgency is a faction against the Foundation, their goal is to help Class-Ds to escape and terminate all hostiles.
They are friendly to Class-Ds, neutral to SCPs, and hostile to all Facility Personnel, Security Department, GOC, and MTF.
They enter the facility in 4 vehicles that appear to look like humvees in a hanger in the Surface Zone.
They are divided into 4 ranks.
Alpha
Beta
Gamma
Delta
The UNGOC (or GOC) are a faction that are against all SCPs and their sole task is to eliminate all anomalies and hostiles within the facility.
They are neutral to every class except SCPs and CI.
All GOC wear a ballistic vest with a bright blue uniform underneath with their logo emblazoned on their shoulders. They also wear a radio at the back of their body. All of the ranks have the same outfit.
The GOC spawn infront of the gate leading to Surface Containment Zone on surface, next to MTF spawn.
Private
Sapper
Corporal
Captain
These classes are only obtainable via the admin panel. Some are obtained via function hooks
These classes are for event purposes, they have the old facility guard uniform but in different colors, those being blue, orange, green and pink.
They spawn with no items and ammo, but are neutral to every class.
These classes spawn in the prison area of the "arena" under surface.
Team [1]
Team [2]
Team [3]
Team [4]
The Arena
¶ Serpent's Hand
The Serpent's Hand (or SH for short) are a group which seek to assist anomalies, their uniform being a black shirt with a vest.
Serpent's Hand spawn through a locked door at surface, in front of the Gate-B elevators and next to the dividing gate in the center.
Hostile to everyone but SCPs.
Has a fairly randomized loadout.
Micro Uzi
Uzi / M249 / Scar-PDW / UMP-45 / Nova / HK51K
Commander / Facility guard / Lieutenant / Containment Engineer / Major Scientist keycards
Flashlight
Medkit
Radio
This class can only be spawned by Developers+ and with hookfunctions (for more info on this click here). (Hook page link<<<)
It spawns inside Aaro's office and wears a suit.
This class is only accessible to Developers+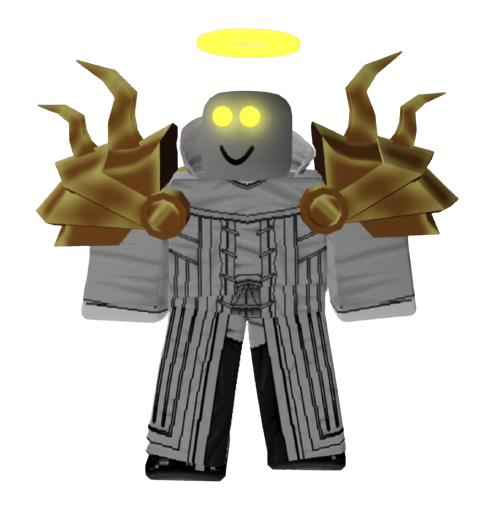 God is a joke class which has a yellow tinted vision and can see in the dark.
God has a glowing yellow halo and glowing yellow eyes, a white robe, golden shoulder pads and a white cape.
Spawning as God shows "GOD IS BACK AND WANTS BLOOD."
DIVINE INTERVENTION
Minigun
The Items this class spawns with are only obtainable via the admin panel.
https://projectscp.net/en/SCPs
Huge thanks to wiki staff!